We are delighted to announce that Epping Forest District Council has granted planning consent to develop Bakers Cottage into classrooms and other facilities for a new senior department at Coopersale Hall School.
We have welcomed our first Year 7 class in September 2023
There will be a phased introduction of senior pupils to Coopersale Hall over several years, starting with Year 7 in September 2023, with the hope of having a full seniors up to Year 11 from September 2027. The development will be phased and timed to open the refurbished Bakers Cottage with new facilities in September 2023. The external building project will start soon after, to be completed ready for September 2024.
The aim is to have around around 20 pupils per year group, often taught in smaller classes. Coopersale Hall children will be able to move automatically into the seniors. There will then be external exams for students looking to join us into the seniors from other local schools. We will continue to prepare children for 11+ entry for several years in order to provide more choice to our families.
Senior Experience within the Oak-Tree Group
There is considerable experience within the Oak-Tree Group working with senior students at Normanhurst since 1996 and then Braeside since 2015. GCSE results at both schools have been consistently high and our students have an excellent track record moving to a range of first choice sixth form schools and colleges to study a variety of A-Levels before moving to their universities.
Claire Osborn, our Group Education Principal, and Mr Hagger, Group Managing Principal, have worked together for many years putting together senior teaching teams, developing senior curricula with high levels of resourcing, working with GCSE exam boards and monitoring the progression of the students against a range of assessments.
Miss Barnard also has experience working with senior students at Normanhurst and was Head of School (Juniors and Seniors) before joining us at Coopersale Hall in September 2020. She acted as a mentor to our older pupils and helped track progression to enable them to achieve their full potential in their GCSEs.
With such additional expertise at our disposal, the move towards senior education seems more natural now than ever.
Development of Facilities
The planning consent covers the following:
To refurbish the inside of Bakers Cottage to form a new Senior Building with
classrooms, toilets, Science Lab/store, offices, support rooms and ICT Suite.
To demolish the large conservatory at the rear of the cottage and build a new
senior block with classrooms and toilets/changing rooms/showers.
To provide additional bicycle racks and electric car charging points to promote
more sustainable travel to school.
As you will see from the aerial photo below the outline of the new Senior Building marked in red on the left. We will also re-landscape the area marked in red at the rear of the site to create a senior recreation/seating area.
Extracts from the application proposals are shown below.
Looking at the proposed 'Senior Buildings' from the Bakers Cottage front gate – new development shaded on the left.

Looking at the proposed 'Senior Buildings' from the courtyard between the kitchen and the Studio – new development below the historic wall on the right. 
Ground floor plans of whole building (new and some existing)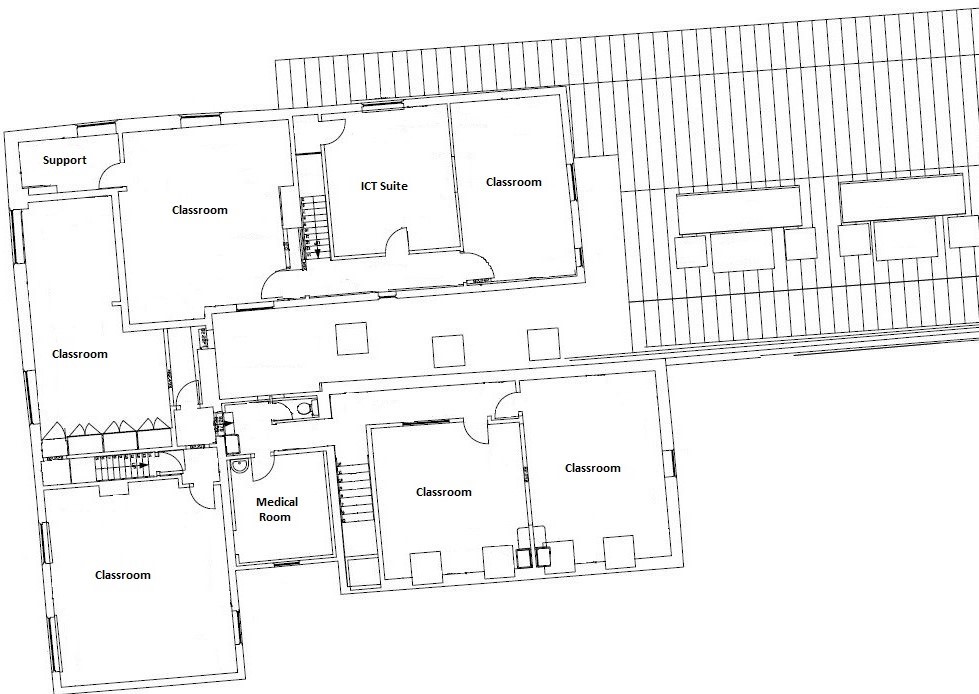 Ground floor plans of whole building (new and some existing)