Sometimes we can be inspired by different people and different things.  We would like to share how Evie, through her kindness has been an inspiration.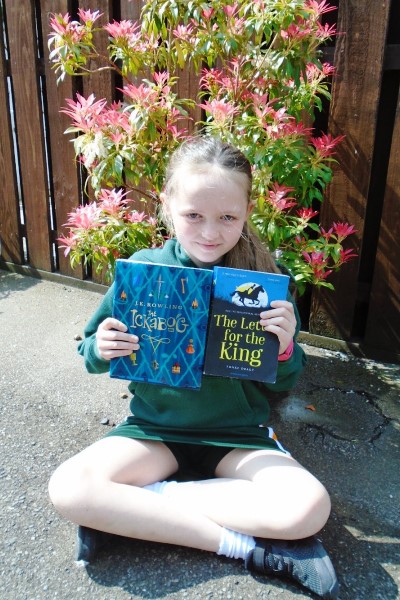 In the last half-term Miss Leeks set a challenge to create a book cover.  Evie decided to participate and sent in her cover for "The Letter for the King", by Tonke Dragt.  Miss Leeks was interested to know what this book was about.  Evie kindly donated a book to the school which allowed Miss Leeks to enjoy reading this over the Easter break.   She found the book "a true page-turner and an absolute pleasure".
"The Letter for the King" tells the adventures of a young messenger whose secret mission is to deliver the letter to the King who lives across the Great Mountain, perilously risking his life to fulfil this mission.
An international best seller which will soon be made into a Netflix original series, you can consider whether this series is as spellbinding as the book which has a sequel "The Secret of the Wild Wood".  This book has also been kindly donated, so you can read on and continue to enjoy this tale.
Mrs Bull was also inspired by Evie and is currently reading "The Ickabog" written by J K Rowling, a writer who has received many awards and honours for her writing.  For as long as she can remember, J K Rowling has wanted to a writer, and is at her happiest in a room making things up.  This book was initially published online for families to enjoy during lockdown.  It also inspired an artwork competition with the winning pieces being included in the published book.
This book tells you about the Kingdom of Cornucopia which was once the happiest place in the world – except the for misty Marshlands to the north.  According to legend this is the home of the monstrous Ickabog.  Was the Ickabog a myth to scare children into behaving? The funny thing about myths is that sometimes they take on a life of their own.  Step into the pages of this book and brilliantly original fairy tale from one of the world's greatest storytellers and discover the unforgettable message about the power of hope and friendship.  Maybe this book too will be made into a film, who do you think will be inspired to make it?
Evie loved all the artwork, but if she had to pick a favourite, this is it.  Thank you for being an inspiration Evie!
Another Inspirational Pupil Iman, (Year 2S) has kindly donated "Narwhal Unicorn of the Sea" to the school library. It was her World Book Day costume and it inspired her so much that she wanted to share it with the school.
Miss Surtees found this very kind, as did Mrs Boultwood, the librarian who was inspired to read this book and found it adorable to read and very informative also.
"A Narwhal and Jelly Book"
By Ben Clanton
Captions:
A book that makes you smile, includes really fun facts and "The Narwhal Song" Hilarious and charming.
The Narwhal and the Jelly fish make a lovable duo!
Iman liked the book because she found it very funny and her favourite fact: "recent research suggests that Narwhals can live up to 90 years" which is very old. Thank you for your kindness in donating this book to our library for everyone to enjoy Iman!